Brillcam
Brillcam 5MP Outdoor POE IP Camera with Built-in Microphone, IR Night Vision and Micro SD Slot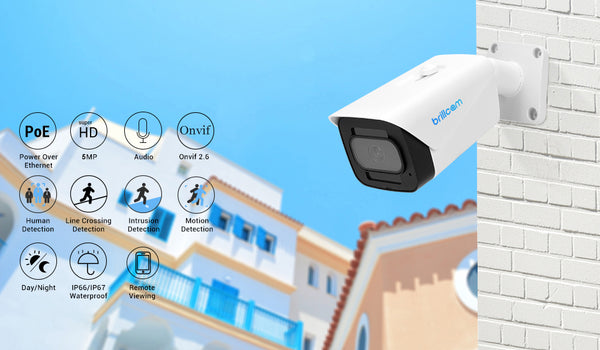 Videos Now Clearer, in True 5MP Super HD
BRC-B751 with the resolution of 2560x1920, captures nearly 2.4X clearer and sharper video than 1080p ones. And it also has auto backlight which makes the image more clearer.
Smart Detection Alerts Let You Never Miss What Matters
It helps you to see important information and reduce unnecessary alerts. Unlike normal motion detection, the camera records "Human Motion" events and saves exactly the moments for later playback, decreased much error detection by motion. You can set human detection, linecrossing detection and intrusion detection as you wish.
Up to 30m Night Vision
Infrared LEDs enable long night vision distance (up to 30m). this outdoor IP camera captures crystal clear video evidence of theft and vandalism that occur in low-light conditions where standard security cameras won't work.
Remote Viewing, Anytime, from Anywhere
Remotely access the IP camera to see live viewing and recordings via free App on your mobile device, free Client on your computer, web browsers (IE, Google Chrome, Microsoft Edge, Safari, Firefox, etc.).
Save all Motions in SD Card
The SD card will record when motion detection is triggered. The camera supports pre-record and post-record. When the SD card is full, it will automatically cover the old video.
PoE Makes Easier Wiring and Installation
The Power over Ethernet (PoE) is an advanced technology, which enables you to use a single network cable for both video and power transmission, installation easier! Besides, thanks to PoE you will never worry about electric leaks!
Listen to What's Happening Around
This security camera can pick up audio around and it will give you a clear voice of what's going on at the other side.
PoE Makes Easier Wiring and Installation
1.Work with 12V 1A Power Adapter
2.Work with POE Injector or Switch
3.Work with NVR
Free Device Management Tool Software and Player Tool
Cross-platforms: Windows/Linux/Mac OS Devices searching, firmware updating, batch configuration etc. Quick settings: view main stream and sub stream, camera settings including: Stream, Encoder, Network, Wi-FI, SD, RTMP etc. finding the password, playback and download SD/USB archives UI customization.
RTMP Streaming
Live Broadcasting, RTMP video and audio streaming to Youtube, Wowzar Server for broadcasting with max 4K video resolution and 48K audio sampling rate AAC audio through wireless network.
Waterproof Works Perfectly Outdoor as Well as Indoor
Brillcam BRC-B751 outdoor and indoor IP camera has a solid aluminum body and housing, with an IP67 waterproof rating. So you can feel free to install it outdoor, like in your garage, backyard, or anywhere else. It can stand harsh weather conditions, including rain, snow, intense cold and heat.
Free Firmware Update
Free Brillcam firmware update helps your camera/NVR keep up with the up-to-date features as well as fixing any bugs or glitches.
Work with NVR for 24/7 Reliable Recording
If you have multiple IP cameras or if you want 24/7 recording, a Brillcam NVR is your best choice. The NVR works perfectly and efficiently with the cameras for round-the-clock monitoring and recording for your home & business security and surveillance.
Share
詳細を表示する