Brillcam
Smart Detection Alerts Let You Never Miss What Matters
It helps you to see important information and reduce unnecessary alerts. Unlike normal motion detection, the camera records "Human Motion" events and saves exactly the moments for later playback, decreased much error detection by motion. You can set human detection, linecrossing detection and intrusion detection as you wish.
Amazing 5MP Video
Higher pixels and Clearer pictures for Safer life.
Smart Night Vision
New generation infrared LED provides high quality night vision up to 30m.
Smart IR Technology
Intelligent adjustment of brightness for night vision when someone comes close. As clear as daytime.
POE Support
Easy and Convenient Installation. Besides, thanks to PoE you will never worry about electric leaks!
Built-in HD Microphone
Record the sounds that maybe important to you.
Remote View
Live stream or play back anytime on your electronic device.
Free APP for your mobile device (IOS, Android.).
Free Client for your desktop.
Various website browsers support (IE, Google Chrome, Safari, Firefox, etc.).
Motion Detection Warning
Receive alert FTP/Email/App with any suspicious movement.
Easy Storage
The SD card will record when human detection or motion detection is triggered. The camera supports pre-record and post-record. When the SD card is full, it will automatically cover the old video.
Durable Design
Customized aluminum alloy work perfectly in all kind of weather even sub-zero winter.
This camera supports cold start at -40℃, and its working temperature can be from -40℃ to 60℃.
This camera supports waterproof IP67.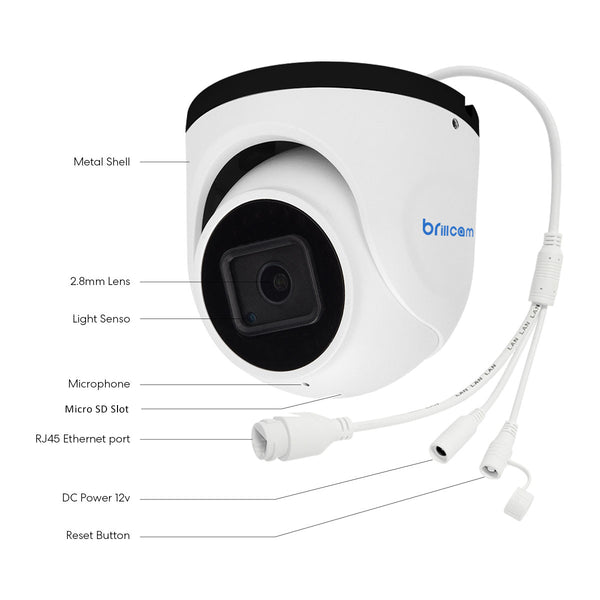 Share
詳細を表示する